To search Forks Cemetery - Go to: Billion Graves - June 15, 2018
and for additional information, visit: www.forkscemeterypa.com and choose the top link on the Links page.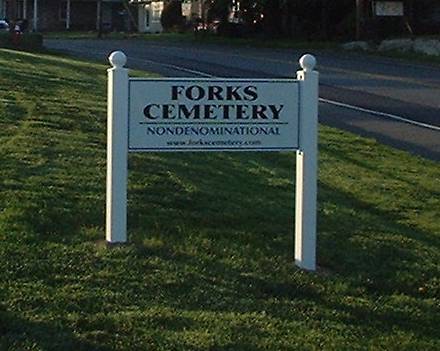 Road paving - Sections of the cemetery road system will be repaved during 2018, thanks to a successful capital fund drive recently.
Using the Billiongraves.com web site and app, a visitor to the cemetery with an iPhone, iPad or other cellular device, GPS enabled, can now locate a grave site and walk directly to it. The most recent imagery on Google Earth provides latitude and longitude, as well. Also, see our Section Map glass enclosed display on the wall of the cemetery garage near the office.
Volunteers - Volunteer help is always welcome! You can help beautify the cemetery by offering to pick up scattered debris, tattered flags etc. Brushing or sweeping dried grass from markers and monuments is helpful. Perhaps assisting with uploading monument photos to the Billion Graves website using your smart phone is your way of helping. Contacts us. See below.
Benches on cemetery
You may have seen the many attractive benches lining the perimeter of the new section. These have been placed by families who visit loved ones interred in the cemetery. Our policy requires that before a bench is placed, you contact a cemetery official and provide an image of the bench you propose and identify the area you wish to place the bench. Your request will be discussed at a Board of Directors and a prompt response will be forthcoming. The reason for our policy is to maintain the dignity and aesthetics of the burial grounds. All benches approved are to be placed on a substantial flat surface preventing the growth of grass and weeds beneath the bench. Since our contracted grass mowers trim around only headstones, it is your responsibility to trim around any bench.
What is perpetual Care?
All plots are sold with perpetual care which includes general maintenance such as grass mowing, general road maintenance and signage. It does not include the repair of fallen headstones, sunken grave markers etc. This maintenance is the responsibility of the plot owner or his/her family. In modern times, the cemetery requires the use of an approved cemetery contractor for setting foundations in order to prevent sinking and toppling. This was not always the rule. If you become aware of a sunken hole that is not your responsibility, notify us and we will attempt to have the problem resolved. Depressions and sink holes are common after a harsh winter. Use caution during your visit to the cemetery.
Mowing - The first few weeks of the Spring/Summer mowing season are typically wet leading to quickly growing grass. Grass clippings must remain on the ground - no disposal methods exist. While brown, mowed grass can be unsightly, please be patient with criticisms. Mowing a large cemetery is a huge, and by far our largest, expense. Only a portion of the cemetery can be trimmed each week.
Policy regarding displays on grave sites -
Permanent monuments or flat markers, only, are permitted. Temporary markers of the type provided by funeral homes are acceptable up to 180 days following interment. Out of respect for visitors to family plots and in maintaining the dignity of the burial grounds, under no circumstances do we permit shrines or memorials consisting of personal items, beverage containers, landscaping materials etc.
What is the policy regarding flowers and plants?
Your deed and the Cemetery Rules board state the policy. In brief, planting of live flowers, shrubs and plants is not permitted without consent of the Board of Directors! If consent is granted and the planting is not kept neat, manicured and to a reasonable size, it will be removed in deference to the rights of other plot holders. Approved plantings must be kept tight to the base of a monument and not protrude beyond the dimensions of your plot. Your cooperation and the exercise of good judgment is requested.
May I sell or transfer my plot?
Yes. Your deed grants you or your assignee burial rights at a specific location in the cemetery. You may sell or transfer your plot, privately, to another person. Forks Cemetery cannot buy back your plot. In a private transaction, Forks Cemetery should be notified of the transfer and a new deed will be issued to the new owner. We collect a $25.00 deed preparation fee in these instances.
Financial future of cemeteries
How will cemeteries survive financially? The lifeblood of a cemetery is new plot sales. Only a percentage of each new plot sale may be used to pay current operating expenses such as grass mowing. The remainder must be invested in a perpetual care fund with only the earnings available for current paying expenses. Two dynamics at work currently are 1) historically low investment yields and 2) a trend resulting in at least 50% of all deaths electing cremation rather than traditional burial. It is a fact that many families choosing cremation do not purchase a plot for burial. In recent years, are annual plot sales have been only a fraction of those sold a few decades ago.
A cemetery greater than 250 years old, such as ours, obviously sold a majority of plots at very low prices. That combined with extremely meager investment yields creates a dilemma and a daily challenge. The good news is that Forks Church Cemetery has been well managed for many years and remains so today. We are totally self sustaining with no municipal nor state support. All officers and directors serve without compensation devoting hundreds of hours of volunteer time annually. We are pleased to report that our financial condition is healthy and well positioned for the immediate and long term future. The numerous displays of generosity through charitable contributions and bequests to the cemetery have helped greatly in this regard. On the flip side, significantly fewer plot sales, year over year, will lead to fewer burials and lower revenue to meet current operating expenses going forward.
Will we eventually see the day when fees must be charged for any admittance to the cemetery? Hopefully not. However, we take seriously our promise to provide perpetual care for all grave sites. We are constantly searching for a business model that will work for the next generations.
Cemetery open during daylight hours. Our disposal area is for cemetery debris, only. Anyone dumping non-cemetery debris will be prosecuted for illegal dumping. Forks Cemetery property is patrolled by Forks Township & Stockertown police and randomly monitored by camera. No hunting permitted on any cemetery property. Vehicles not permitted on cemetery roads unless conducting cemetery business or visiting cemetery. Other vehicles will be towed. Waste baskets are for cemetery related waste. Please do not use for household garbage.
Welcome to Forks Church Cemetery, Inc.
Plot prices $610 old section
Plot prices $795 new section
Inquire about payment methods. Installment payment plans available upon request. Inq
I

Profile
We have been at same location for more than 200 years. Located on the west side of Sullivan Trail at the Forks Township/Stockertown Borough border, we have burial sites available in our recently opened section as well as a few in our mature sections. Reserve yours now. Our earliest recorded activity dates to 1761.
The cemetery organization is governed by a Board of Directors and corporate officers. Regular meetings are held the second Tuesday of each month, at 6:30 p.m. in the office on the grounds.
Keeping the cemetery grounds dignified and well maintained requires a substantial budget. Your support through making a current tax deductible contribution or by remembering Forks Church Cemetery, Inc. with a bequest is encouraged. Correspondence or donations may be sent to the address below.
As treasurer of Forks Church Cemetery Inc. for nearly five decades, I would be pleased to discuss with you the various ways you can help us remain financially viable. Your cash contribution or underwriting of certain capital improvements would be greatly appreciated.




Latest photos



Aerial photography by Bob Black, photographer & Neill Werkheiser, pilot - - Use Back arrow
Forks Church Cemetery welcomes folks of all denominations.
Officers:
President - Robert Black 610 252-6506
Secretary - Patricia Steinmetz
Treasurer - Neill Werkheiser 610 253-5420
You are visitor number

Contact Information
While our physical location is Sullivan Trail, Forks Township, PA, you can reach us from anywhere, worldwide, by utilizing the contact information, below. Let us hear from you.
Telephone

610 253-5420

FAX

1 866 577-3960

Postal address

Forks Church Cemetery Inc., c/o Treas., 1430 Church Lane, Easton, PA 18040

Electronic mail

General Information: blackfire1@rcn.com

or
Treasurer:: nwerkheiser@forkscemetery.com