With deep sorrow we note the February, 2015 death of Vice President and Board Member, Gordon Santee. Gordon devoted many years to cemetery operations and served as a member of the Finance committee. He will be missed.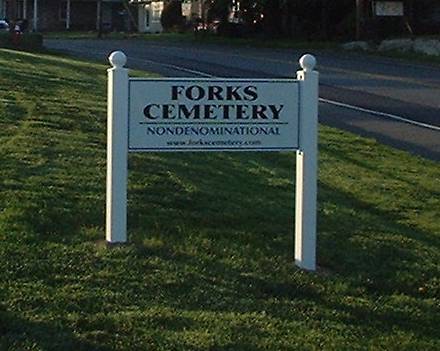 Summer season is here.
As of April 20, 2015, the mowing season has started. Cemetery rules require permission to plant any live flowers. While we generally grant permission, any plantings that are not tended regularly and kept weeded and trimmed detract from the beauty and dignity of the grounds and are troublesome to neighboring plot owners. Please cooperate.
Transferring plots - This situation arises on a regular basis - "My grandfather told me in 1978 that any unused burial spaces in the family plot would be mine, eventually. I wish to make certain the cemetery officials know" - We will need some proof to support this claim. Perhaps you have a last will and testament, a certified letter or the original deed with notations of a cemetery official. If not, at the very least, we will require that you provide a notarized statement attesting to your claimed burial rights. If you have siblings or if other grandchildren exist, for example, we will want to see a letter from them stating that they have no interest in the plot and do not contest your claim. Once convinced of your rights, the Board of Directors will gladly re-issue you a deed to the burial spaces for a $25.00 deed fee.
What is perpetual Care?
All Forks Cemetery plots are sold with perpetual care which includes general maintenance such as grass mowing, road maintenance and signage. It does not include the repair of fallen headstones, sunken grave markers etc. This maintenance is the responsibility of the plot owner or his/her family. In modern times, the cemetery requires the use of an approved cemetery contractor for setting foundations in order to prevent sinking and toppling. This was not always the rule. If you become aware of a sunken hole that is not your responsibility, notify us and we will attempt to have the problem resolved. Depressions and sink holes are common after a harsh winter and the 2014 - 15 winter has been very robust.. Use caution during your visit to the cemetery..
Cemetery open during daylight hours. Please understand that our disposal area is for cemetery debris, only. We are fortunate that the Forks Township police patrol for the safety and security of our visitors. Security cameras are also randomly used.
Welcome to Forks Church Cemetery, Inc. All plots sold with perpetual care; no assessments; no taxes.
Plot prices $595.00 Old section
Plot prices $785.00 New section

Profile
We have been at same location for more than 200 years. Located on the west side of Sullivan Trail at the Forks Township/Stockertown Borough border, we have burial sites available in our recently opened section as well as a few in our mature sections. Reserve yours now. Our earliest recorded activity dates to 1761.
The cemetery organization is governed by a Board of Directors and corporate officers. Regular meetings are held the second Tuesday of each month, at 6:30 p.m. in the office on the grounds.
Keeping the cemetery grounds dignified and well maintained requires a substantial budget. Your support through making a current tax deductible contribution or by remembering Forks Church Cemetery, Inc. with a bequest is encouraged. Inquiries, correspondence or donations may be sent to the address below.
As treasurer of Forks Church Cemetery Inc. for more than four decades, I would be pleased to discuss with you the various ways you can help us remain financially viable. Your cash contribution or underwriting of certain capital improvements would be greatly appreciated.
Aerial photos by Bob Black, photographer & Neill Werkheiser, pilot - - Use Back arrow
You will be at home on the grounds of Forks Church Cemetery, Inc.
Officers:
President - Robert Black 610 252-6506
Secretary - Patricia Steinmetz
Treasurer - Neill Werkheiser 610 253-5420
Board Member - Carol Santee

Contact Information
While our physical location is Sullivan Trail, Forks Township, PA, you can reach us from anywhere, worldwide, by utilizing the contact information, below. Let us hear from you.
Telephone - Primary contact

610 253-5420

FAX

1 866 577-3960

Postal address

Forks Church Cemetery Inc., c/o Treas., 1430 Church Lane, Easton, PA 18040

Electronic mail for Bob Black or Neill Werkheiser

General Information: blackfire1@rcn.com

or
Treasurer or historical information: nwerkheiser@forkscemetery.com