Dave Scheffler is Forks Cemetery Superintendent. He may be reached at 610 331-4525 or at dscheffler@rcn.com. Please contact Dave with questions, concerns and comments regarding plot availability and location, cemetery operations and general assistance. If you will be visiting the cemetery and desire help with locating grave sites, please contact Dave in advance whenever possible.
Dave Scheffler, Superintendent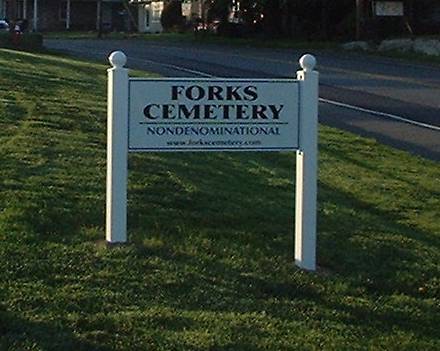 Cemetery open during daylight hours. Our disposal area is for cemetery debris, only. Anyone dumping non-cemetery debris will be prosecuted for illegal dumping. Area is patrolled by Forks Township police.
Welcome to Forks Church Cemetery, Inc.
Plot prices $575 old section
Plot prices $775 new section

Profile
We have been at same location for more than 200 years. Located on the west side of Sullivan Trail at the Forks Township/Stockertown Borough border, we have burial sites available in our recently opened section as well as a few in our mature sections. Reserve yours now. Our earliest recorded activity dates to 1761.
The cemetery organization is governed by a Board of Directors and corporate officers. Regular meetings are held the second Tuesday of each month, at 6:30 p.m. in the office on the grounds. The telephone number of Superintendent, Dave Scheffler, is 610- 331-4525.
Keeping the cemetery grounds dignified and well maintained requires a substantial budget. Your support through making a current tax deductible contribution or by remembering Forks Church Cemetery, Inc. with a bequest is encouraged. Correspondence or donations may be sent to the address below.
As treasurer of Forks Church Cemetery Inc. for three decades, I would be pleased to discuss with you the various ways you can help us remain financially viable. Your cash contribution or underwriting of certain capital improvements would be greatly appreciated.




Latest photos



Aerial photos by Bob Black & Neill Werkheiser - - Use Back arrow
You will be at home on the grounds of Forks Church Cemetery, Inc.
Officers:
President - Robert Black
Vice Pres & Secretary - Patricia Steinmetz
Treasurer - Neill Werkheiser
Superintendent: Dave Scheffler
You are visitor number

Contact Information
While our physical location is Sullivan Trail, Forks Township, PA, you can reach us from anywhere, worldwide, by utilizing the contact information, below. Let us hear from you.
Telephone

610 331-4525

FAX

1 866 577-3960

Postal address

Forks Church Cemetery Inc., c/o Treas., 1430 Church Lane, Easton, PA 18040

Forks Church Cemetery Inc. c/o Superintendent, 3001 Kesslersville Road, Easton, PA 18040

Electronic mail

General Information: blackfire1@rcn.com or dscheffler@rcn.com
or
Treasurer:: nwerkheiser@forkscemetery.com